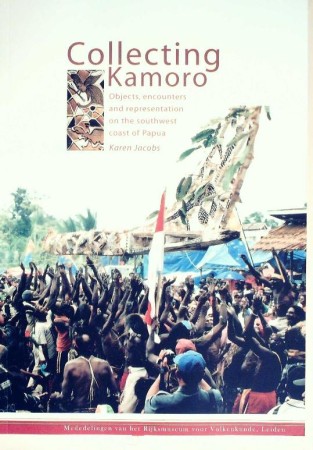 COLLECTING KAMORO: OBJECTS, ENCOUNTERS AND REPRESENTATION ON THE SOUTHWEST COAST OF PAPUA.
Jacobs, Karen.


288 pp.; illus., index, biblio.. Series: Mededelingen van het Rijksmuseum voor Volkenkunde, No.40. Leiden, 2012. Pbk.
book nr. 11701 € 39,50
The story of ethnographic collecting is one of cross-cultural encounters. This book focuses on collecting encounters in the Kamoro region of Papua from the earliest collections made in 1828 until 2011. Exploring the links between representation and collecting, the author focuses on the creative and pragmatic agency of Kamoro people in these collecting encounters. In early European encounters, the Kamoro people were described as producers of an abundance of artefacts. Subsequently, the presence or absence of artefacts has remained central to Kamoro representations throughout their 'contact' history. These historical representations have structured the most recent collecting practices within the region. Collecting by explorers, colonial officers and missionaries, and the multi-national mining company PT Freeport Indonesia are explored as well as various collecting contexts such as exchanges, auctions, and exhibitions. By considering objects as visualizations of social relations, and as enactments of personal, social or historical narrative, this book combines filling a gap in the literature on Kamoro culture with an interest in broader questions that surround the nature of ethnographic collecting, representation, patronage and objectification.