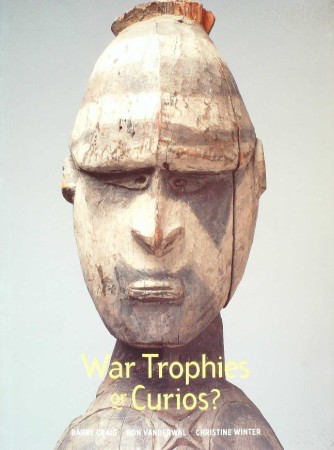 WAR TROPHIES OR CURIOS?
THE WAR MUSEUM COLLECTION IN MUSEUM VICTORIA 1915 - 1920.
Craig, Barry.; Vanderwal, Ron.; Winter, Christine.


281 pp.; c.300 colour illus., maps, index, biblio.. Melbourne, 2015. Pbk. CORNERS SLIGHTLY BUMPED DUE TO INSUFFICIENT PACKING DURING TRANSIT!
book nr. 13254 € 95,00
War Trophies or Curios?: the War Museum collection from German New Guinea 1915-1920 showcases a unique and rarely seen collection of cultural objects from New Guinea and tells the story of 'war trophies' or 'curios' acquired during the German possesion of New Guinea, before the takeover by Australian military forces in 1914. The Australian War Museum received the collection from the Department of Defence and later, donated it to Museum Victoria where it is now held in the Melbourne Museum when they were also acknowledged as cultural objects and objects of traditional use, rather than 'war trophies' or 'curios'. Beautifully photographed, the collection includes masks, jewellery, head-dresses, carvings, weavings, furniture, watercraft, cloth, spears, axes and shields, instruments, tools and ceremonial objects. A description of each piece includes where it was made, its usage and cultural importance.