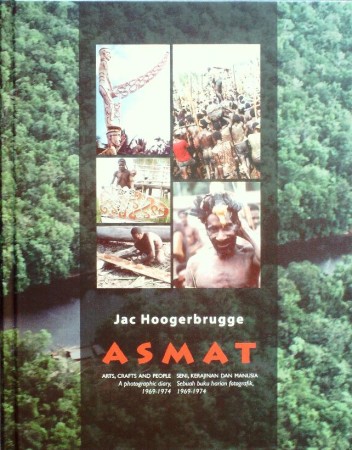 ASMAT. ARTS, CRAFTS AND PEOPLE. A PHOTOGRAPHIC DIARY, 1969 - 1974.
ASMAT. SENI, KERAJINAN DAN MANUSIA. SEBUAH BUKU HARIAN FOTOGRAFIK, 1969-1974.
Hoogerbrugge, Jac; Corbey, Raymond; Stanley, Nick.


336 pp.; c.730 photographs, 56 b/w drawings, 2 maps, biblio.. Text: English and Indonesian. Leiden, 2011. Cloth.
book nr. 11260 € 45,00
The Asmat people inhabit the densely forested mangrove swamps and the adjoining humid rainforests along the southwest coast of New Guinea. Their spectacular art, traditionally associated with headhunting, warfare, and cults concerning spirits and fertility, experienced a dramatic revival around 1970. As manager (with co-manager Marwan) of the Asmat Art Project, Jac Hoogerbrugge documented this remarkable process in great detail by way of circa c.730 photographs taken during his sojourn among the Asmat between 1969 and 1974. This photographic diary is thus a valuable asset to curators, collectors, anthropologists and indeed anyone who takes an interest in Asmat art, cosmology and culture.