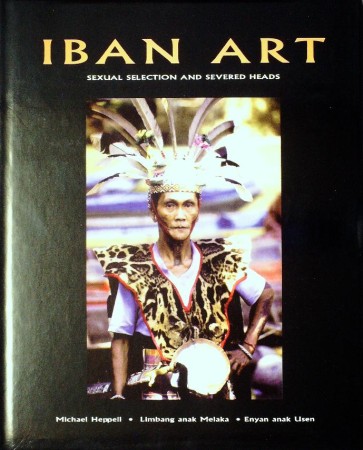 IBAN ART.
SEXUAL SELECTION AND SEVERED HEADS. WEAVING, SCULPTURE, TATTOOING, AND OTHER ART FORMS OF THE IBAN OF BORNEO.
Heppell, Michael.; Limbang anak Melaka.; Enyan anak Usen.


182 pp.; 223 colour illus. of Iban objects, field photographs throughout, maps, index, biblio.. Amsterdam/Leiden, 2005. Cloth.
book nr. 8752 € 50,00
Reference work on the Ibanic peoples from Borneo covering all art forms such as weaving, wooden statuary, tattoo designs, plaiting, pottery, carving bone into sword hilts, iron into swords, and brass into jewelry. This publication is especially strong on textiles, masks, weapons and wood carvings. Most objects originate from high status Sarawakian families and have not been published before. The Iban pose an answer to the question about the origins of art. They use art to choose their mate or spouse. A good artist demonstrates intelligent genes and a partner wants to ensure that such genes are passed on to his or her children. For the Iban, therefore, art is the ultimate IQ test. In addition to explaining the various Iban art forms, this study demonstrates this tradition through extensive reference to Iban poetry - itself an important art form.